How to Make Your Own Sex Doll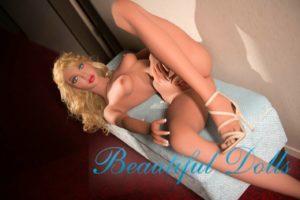 While most of our customers choose one of our 'off the rack dolls', some prefer to have a doll specially created for them. They do this so that they can experience the pleasure of living with and making love to a doll that matches their greatest fantasies. It's our pleasure to provide this service to our most discerning customers. However, we do get a lot of questions about this process. Customers want to know what they need to do to get a custom made doll.
Are you interested in a sex doll that has the face and figure you've always dreamed of? Keep reading. We'll go through all of the steps you have to take, and a few formalities to keep in mind.
Top Quality Sex Dolls Designed And Built to Your Specifications
When we say custom-built sex dolls, we really mean it. We have the ability to build a doll for you that has the hips, breast, face, skin tone, hair, and other features that you want. We promise that you'll be very impressed with what you see. Virtually every customer expresses surprise at the accuracy with which our artists can reproduce their fantasies.
Getting Started With Your Custom Built Sex Doll
The first thing you'll want to do is visit the page we've provided for ordering a custom sex doll. Here, you'll fill in some contact information, and describe exactly what you'll want. Once we review your request, we'll let you know if we can do the work for you. We'll also let you know the cost of your custom sex doll. Here are some tips for making sure that you get the doll you want:
Be very detailed in describing your doll. Give us her measurements, skin tone, and describe her facial features. Our artists need this information to get started.
Be responsive. We may have questions for you. We don't want to proceed unless we are absolutely sure we are moving in the right direction.
Look for our photographs of your work in progress. We'll start with a clay model, then send you pictures. Let us know if we are on the right track!
We can work from photographs that you send us to some extent. However, there are limitations to this. We'll address that below.
Choose between a full sex-doll or a head. Some of our customers are only interested in purchasing a custom designed head. They can then add this to a doll they purchase 'off the rack'.
Your Doll Will Look And Feel Amazing
Once we've finished your doll, we'll send it your way. When you get it, we think you'll be amazed. We use the same steel construction, and realistic TPE material to make your custom doll. She'll look and feel just like the real thing. Don't worry, she'll also have breasts, and fully functioning sex organs. In case you're wondering, the answer is yes! We also build males sex dolls to order.
One Last Thing! You Have to Follow a Couple of Rules
First things first. No kids, and we mean that. If your order seems to describe someone under the age of consent, you'll get a hard no from us. We're also unable to reproduce any trademarked figure or a celebrity. The only exception is if you are able to obtain consent. What we can do is create a doll with many of the same features. So, we can't give you a Wonder Woman doll. What we can do is provide you with a very tall, physically fit doll, with long dark hair, and brown eyes. The rest will have to be left to your very active imagination.
Warning
: Use of undefined constant rand - assumed 'rand' (this will throw an Error in a future version of PHP) in
/www/wwwroot/blog.beautiful-dolls.com/wp-content/themes/softpress/single.php
on line
96
Related Posts
About Author